West Fox Lake
West Fox Lake near Fifty Lakes, Minnesota in Crow Wing County
Lake Area (acres): 449.41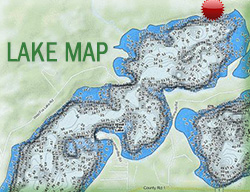 Littoral Area (acres): 138
Maximum Depth (ft): 55
Water Clarity (ft): 16
Dominant Bottom Substrate: Sand (Abundant)
Abundance of Aquatic Plants: 34 Varieties Sampled
2019 Fishing Report
Walleye fingerlings are currently stocked into West Fox every third year and were last done in 2017. While we never brag about our walleye fishing, we did see one 30 inch fish caught as well as several 20 inchers last year.
Northern pike are abundant and regularly caught throughout the year.  There is a massive number of 20-26″ fish.  We regularly see 36″ fish being caught with the biggest being 42″.  Trolling in 20 feet of water with a deep diving crank bait is extremely effective.  Last years record was 28 fish in 6 hours!
Largemouth bass fishing was unbelievable last year.  We saw one fish that measured 20 inches with several 18″ and 19″ fish caught as well.  Most fish caught near lilly pads using various tackle.
Black crappies- We had another great year of crappie fishing.  Lots of good eater size fish with a few monsters to keep it exciting.  Bring 1/8 ounce pink jigs and some twister tails.
Sunfish/Blue Gill-We always have an over abundance of sunfish but this year they were good sized which made it super easy to catch a meal right from the docks.  They will eat anything so just bring a fishing pole with a hook!
West Fox Lake is connected to East Fox Lake for a combined size of 750 acres.